About Russian Missions > Testimonies > Pastor Vitali
Testimony - Rev. Vitali Yuchkovski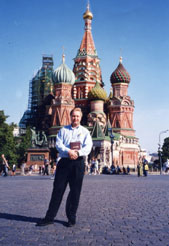 Rev. Vitali Yuchkovski (aka Pastor Vitali) grew up in the Soviet Union. At that point in time people of Russia experienced many difficulties if they openly proclaiming their faith in God.
There was no freedom; believers were treated as the second-class citizens. I remember put downs and humiliation because of our Christian faith. It was such a difficult time. I am grateful to my parents who shared the Christian faith with me. They were committed and faithful believers.
I accepted the Lord as a teenager in 1986 and committed myself to the Christian ministry. I was a youth leader in my church in Kishinev, Moldova, USSR. I always felt the need for Christian training. The Lord gave me an opportunity to come to study in the United States. While I was a student in seminary in Kansas City, I met few Russian-speaking people. They were not believers. In 1994 God spoke to my heart and I started a Russian ministry in Kansas City. I began my missionary work with a handful of Russian speaking people. At that time I was a full-time student. When not in class, I was doing missionary work, social work, preaching, helping with the needy, door-to-door evangelism, translations, etc. Soon a few people grew to many who have heard about Jesus and found peace and hope in Jesus Christ.
After my seminary training, I felt a call to go to Philadelphia to help with the outreach ministry to the Russian people in this community. I learned that there are one hundred thousand Russian-speaking people (mostly Jews) there. Thousands and thousands of them never heard about the Gospel. We have established different ministries to share the Gospel with the Russian people in America. I was involved in establishing a new Russian Christian Radio Program "From Heart to Heart" in Philadelphia and Southern New Jersey. We were able to reach thousands of Russians with the message of Hope.
My heart is with my people in Russia. God has renewed a very strong call to evangelize my homeland with the message of Hope. I travel to Russia to conduct evangelistic outreaches in many areas of the former Soviet Union and we see hundreds of people are coming to Jesus. I have committed myself to share the hope of Christ to those broken and hopeless Russian souls. God is unfolding great opportunities to reach many people of Russia and Ukraine.
Children's ministry has always been a burden on my heart. There are so many orphans and street children in Russia. Together with our indigenous missionaries, we organize children's camps and work in orphanages and youth prisons.
We go to remote places of Northern Siberia where thousand of villagers have never heard about God. We visit and provide help in cancer hospitals where so many children are fighting cancer as the result of Chernobyl accident.
But there are so many who need to hear about the Lord. I would like to invite you to take part in this great outreach. We cannot all go to the farthest parts of the earth...but we can all help someone else to go and tell others about Jesus and His love for them.
I just thank God for friends like you who love the Lord and love the lost. God is opening new doors and opportunities in the former Soviet Union and this is where my heart and passion lie. So, the testimony continues...